Residential Gutter Cleaning
AZUREVAC
Why Clear Clogged Gutters On Your Home?
Here we delve in to understand what gutters really do and why they are so important for your home.
Gutters channel rainfall away from your home to protect the roof structure, outer skin, and foundations of your property.
If the gutters are blocked it will slow the water flow rate down causing an overflow or dripping. Even minor water escape has the potential to cause costly damage to your house over time. Penetrating damp is a major contributor to damp inside your home.
Our residential gutter cleaning service can help keep the risk of costly repair bills to a minimum by clearing gutters on your home.
Gutters are a vital component of your property; you need to look after them.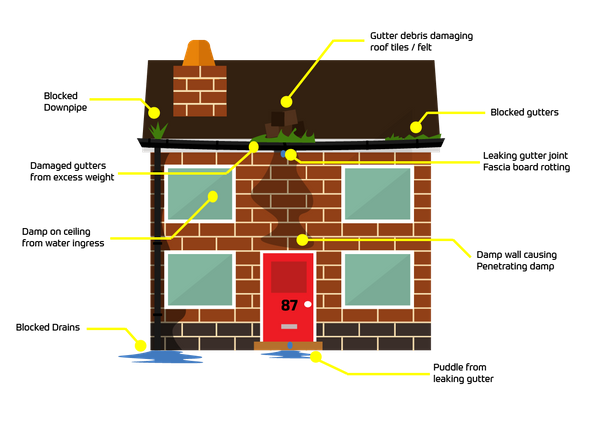 THE FACTS
What Happens If You Ignore Blocked Gutters On Your Home?
Blocked gutters become heavy and compromise service life of components.

Rainwater overflowing can run down outer walls causing damp problems inside your property.

Blocked gutters prevent water draining away from your property causing ground saturation. This could compromise the foundations or footings on your home.

Standing water in the gutters can splash up under the facia board, causing water damage to the roof eaves.

If the root cause of water damage to your home is identified as poor gutter maintenance, this is known as preventative peril. Many building insurance policies require you undertake gutter maintenance.

See an insurance company's advice here.
OUR 4 SIMPLE STEPS
How Our Service Works
Tell us a little bit about your property
We will provide you with an instant estimate
See available times and make a booking
Receive a before and after service video
HERE TO HELP
Why Use Azurevac?
Azurevac, a local Suffolk professional family company near Newmarket.

We have full liability insurance.

We can access areas that are restricted, including above conservatories. *

We always provide our customers with pre & post videos of our work.

We provide you with a record gutter cleaning has been undertaken by us.

We are experts at vacuum gutter clearing, it's what we focus on.

We are registered with the Environment Agency.
We generate our own electricity, so we are not using yours. *

Our powerful industrial grade vacuum system we use is specifically designed for gutter cleaning.

Minimal disruption to your activities.

A professional friendly team.

High reach carbon fibre poles, up to 12m/40ft high.

Operated from the safety of the ground.

No additional cost of hiring access equipment. *

Minimises risk of injury caused by falling from height on your property.
*Subject to pre inspection assessment