Gutter Cleaning Cambridge
WELCOME TO AZUREVAC
Gutter Cleaning Cambridge
Your local specialist gutter cleaning company, we focus on what we do best, and our customer feedback reflects that.
We have years of experience gutter cleaning Cambridge properties. We offer professional full service residential and commercial gutter clearance in the surrounding villages too.
We offer fixed price gutter cleaning services by timed appointment. As well as clearing blocked gutters we also clear blocked downpipes.
We minimise the use of ladders to ONLY when needed. This usually occurs when downpipes need to be manually cleared or minor repairs need to take place.
No mess, no fuss. We clear gutters using our industrial grade vacuum system to clear everything away. All from the safety of the ground with our high reach 12m/40ft carbon fibre vacuum poles.
Our unique service saves you time and hassle with maintaining gutters on your property. We are experienced in working on local residential homes as well as commercial properties in and around Cambridge.
One of our main aims, is to limit unexpected repair costs where property damage could be caused by blocked gutters.
Residential and Commercial Gutter Cleaning
For a free estimate please click here.
You can also contact us via phone or email:
WHAT'S INCLUDED
OUR SERVICES CONSIST OF
Pre & Post HD video inspection link for you to access
Gutter condition report
Service record confirmation
Annual service reminder
Full liability Insured
Fully trained & friendly operatives
Fixed price residential gutter cleaning starts from just £70
GUTTER CLEANING
Residential Properties
No matter the size of your property, we can help keep gutters and downpipes clear of debris build-up on your home.
We are the local experts for gutter cleaning.  We can also solve your issue of restricted gutter access with our high reach vacuum poles.
We welcome enquiries from Owner Occupiers, Tenants and Landlords.
We want to keep everyone safe and reduce the risk of accidents associated with do it yourself gutter cleaning.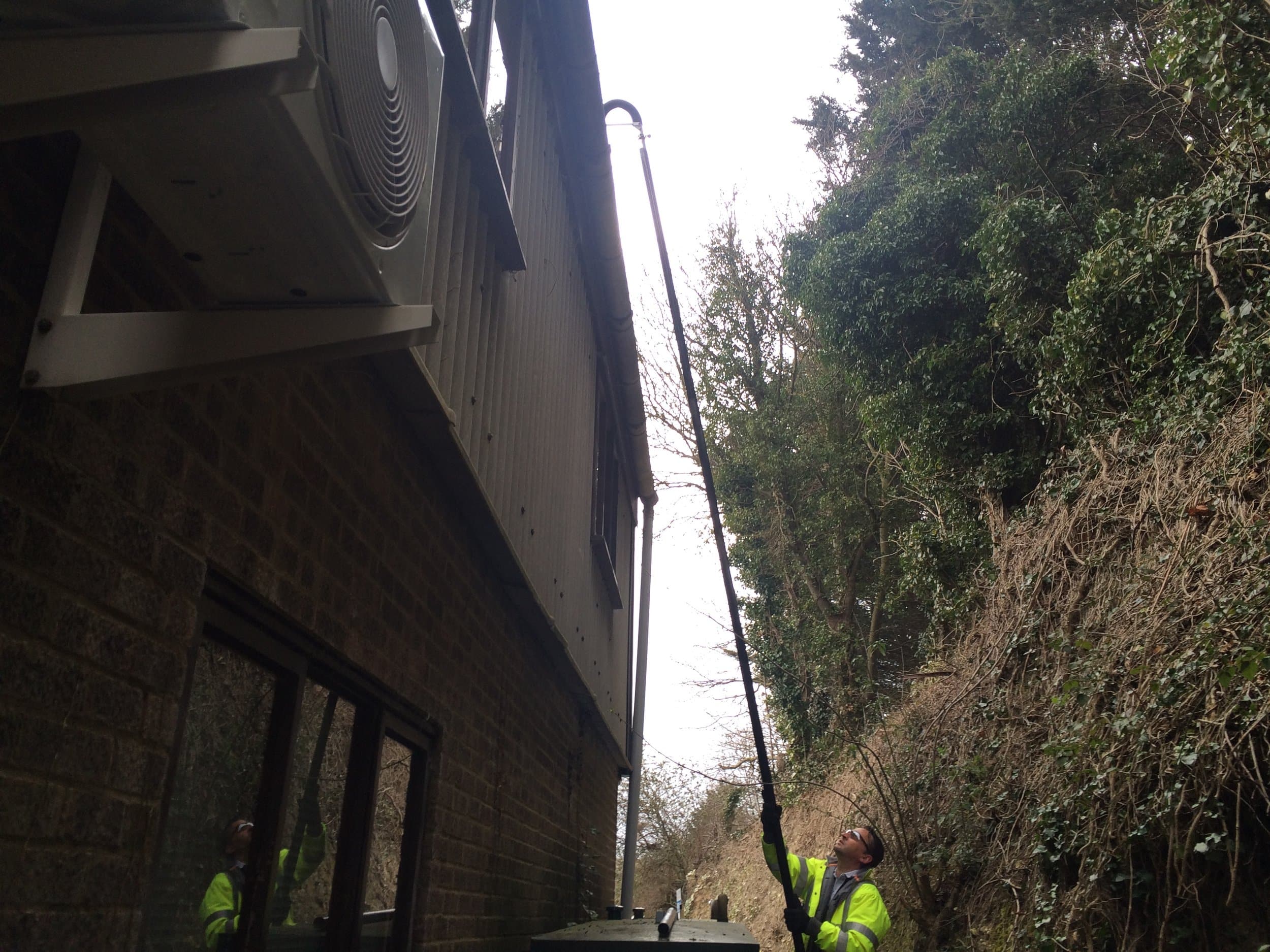 GUTTER CLEANING
Commercial Properties
We work with local businesses in and around Cambridge to help keep gutters clear on commercial buildings like Shops, Hotels, Churches, Barns, Schools, Theatres and small commercial units.
We have experience in safely vacuum clearing gutter debris from small to medium sized business premises. .
We can provide written method statement and undertake risk assessment to ensure compliance.
We can work around your business activities to minimise disruption to your company's activities, keeping customers and staff safe.
OUR 4 SIMPLE STEPS
How Our Service Works
Tell us a little bit about your property
We will provide you with an instant estimate
See available times and make a booking
Receive a before and after service video